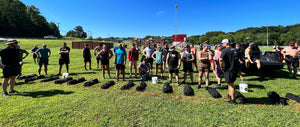 August 12-13, 2023 - Hurricane, WV
Rally In The Valley
What Makes Rally In the Valley Special?
★★★★★

One of a kind event from a well-respected race director in the region. Smooth event transitions and top-notch swag! A truly must-attend event!

Brad P.

North Carolina
★★★★★

Truly honored to be a part of the inaugural event. I highly recommend making the drive to WV from wherever you are to attend and give this event a go!

Jon S.

Vermont
★★★★★

Rally in the Valley 2022 was a competition like I have never seen in our area. I've been doing competitions for years and I've never seen the variety of skills tested like I did at the rally. The events were held at different locations which created an element of surprise. The final events were designed to really test each athletes abilities and determine who was the better all around athlete. The atmosphere was full of energy! Competitors pushing each other made for a great experience. I look forward to what the next Rally will bring! 

Val T.

West Virginia
★★★★★

I really enjoyed Rally in the Valley. It was a unique competition for our area that blended multiple forms of fitness and attracted really good competition from near and far. I had a blast and am excited for next year.

Faith F.

West Virginia
WELCOME TO RALLY IN THE VALLEY 2023!
Rally In The Valley is back and better than ever. Open to all fitness levels (Scaled, RX, Masters) in ONE division. Throughout this two day event, we will dwindle down to the remaining TOP 8 male and female competitors. Can Ryan Dillon and Faith Farley secure their titles or will someone new emerge as the fittest in the valley? Only time will tell.
What to expect in 2023:
Standup Paddle Board adventure-syle race - Powered by Appalachian Board Company


Hill Climb Event - Powered by GORUCK


Meeks Mountain Trail Run (5k distance) - Powered by MudGear


Highland Games type events with epic tie breaker floater workouts


CrossFit Games-Inspired events at ShotFire Fitness (Sunday).



YOU DO NOT WANT TO MISS OUT ON THIS EVENT.

ShotFire Fitness is a functional fitness facility in Hurricane, WV. The name ShotFire derives from the state's deep coal mining roots. A Shot Firer is the individual who prepares, positions and detonates explosives to demolish buildings and structures or dislodge rocks and soil. Explosive power and energy is what you will find any time you step foot through the door at ShotFire Fitness. We offer group coaching and open gym time, utilizing the CrossFit methodology of training. Functional fitness workouts are comprised of constantly varied functional movements (such as pushing, pulling, squatting, lifting, running) executed at high intensity. Our training methods produce undisputed, tangible results for all levels of fitness; from children to elite athletes, and everything in between.
When and Where?
August 12-13, 2023
ShotFire Fitness and Meeks Mountain Trails
803 Midland Trail
Hurricane, WV, 25526, United States
Each athlete will participate in 3 events on day 1 and 2 events on day 2. After 5 events, the top 8 athletes will have 3 final elimination rounds/events. 
Day 1; Event 1 will begin promptly at 8 AM. Day 1 will conclude around 3pm. Day 2; Event 4 will begin promptly at 9 AM. Day 2 will conclude around 2pm. 
It will be beneficial to have multiple changes of clothes, especially in the case of inclement weather. There will also be a water event day 1.
No. There is a huge variety of different styles and we want each athlete to be on a level playing field. 
Athletes do not need to bring their own ruck and weight, however if they have their own, they are more than welcome to bring it and use it. (It must be a GORUCK ruck that has not been altered in any way). 
Yes. Athletes will be allowed to check out venues prior to the start of the competition. There will be a mandatory athlete brief Friday evening at ShotFire Fitness. 
There are several hotels in the area. The event hotel is the Wingate by Wyndham is offering discounted hotel rates for our out-of-town guests. To book a room please call the Wingate directly at 681-233-2230 and simply say you're staying for Rally In The Valley. King guest rooms are just $99 and Double Queen/Kings are just $105.