"I love MudGear's Made Tougher logo across my chest! It describes the shirt and the way I feel when I wear it."
Product Description
UNDENIABLY MADE TOUGHER
Leave no questions unanswered with the MADE TOUGHER mantra blasted across your chest.
Reflecting on Experience
MudGear marked 10 years in business by reflecting on our greatest hits as voiced by you, MudGear Nation. For years, fans asked us to bring back our original Men's Fitted and Loose Fit Performance Shirts. Everyone loved their look, feel, and durability. Unfortunately, supply chain issues and factory shakeups forced us to make some changes. Versions 2 & 3 were popular in their own right, but the demand for the original never quieted.
Finally, the stars aligned allowing us to introduce an enhanced encore of our most popular shirt. Introducing MudGear Made Tougher Men's Fitted Performance Shirt vX. The X (ten) represents a decade of building the world's toughest athletic apparel. This shirt embodies everything you loved about the original and more!
In the Beginning, There Was Mud
It was during our introduction to muddy Obstacle Course Racing in 2012 that we saw why so many elite racers go shirtless… because most shirts suck. We learned that cotton shirts got soggy in the mud, and gym shirts got shredded during barbed wire crawls. So, we set out to make a tougher performance shirt resilient enough to withstand outdoor race conditions and tough enough to help protect racers from the cuts, rope burns, and other injuries common in obstacle course racing. We knew we had to accomplish this while keeping the shirt light for optimal performance.
Premium Fabrics for Strong Construction
We engineered our shirts to achieve specific performance results for their breathability, moisture management, and abrasion resistance. We designed an athletic cut profile that is optimized for athletic performance and comfort. In layman's terms, our performance shirts aren't just durable. They look and feel great!
Tested In The Worst Conditions Possible
Normal testing of performance apparel involves stretching them to measure the material strength and passing them through a simple abrasion test to see how quickly they show wear. Our testing involves putting them on the backs of the world's top obstacle racers and trail runners for trips up and down mountains all day in all types of weather. We test for wicking by fully submerging them in muddy water, and we test abrasion by climbing up and down ropes, over walls, and through mud.
Making the Best BETTER, the Tough TOUGHER
As mentioned, vX goes back to our roots to use the exact same fabric we used in our very first v1 performance shirt. The material provides a slightly less tight fit than V3; and the cut is slightly longer than v3, making it better for taller guys who complained of v3 midriffs. The vX also has noticeable and notable differences from previous models. You can tell a vX from previous renditions because the seams are now black instead of white stitching. Also, look for the modern MG logo on the bottom left hem.
Product Features
Why Choose MudGear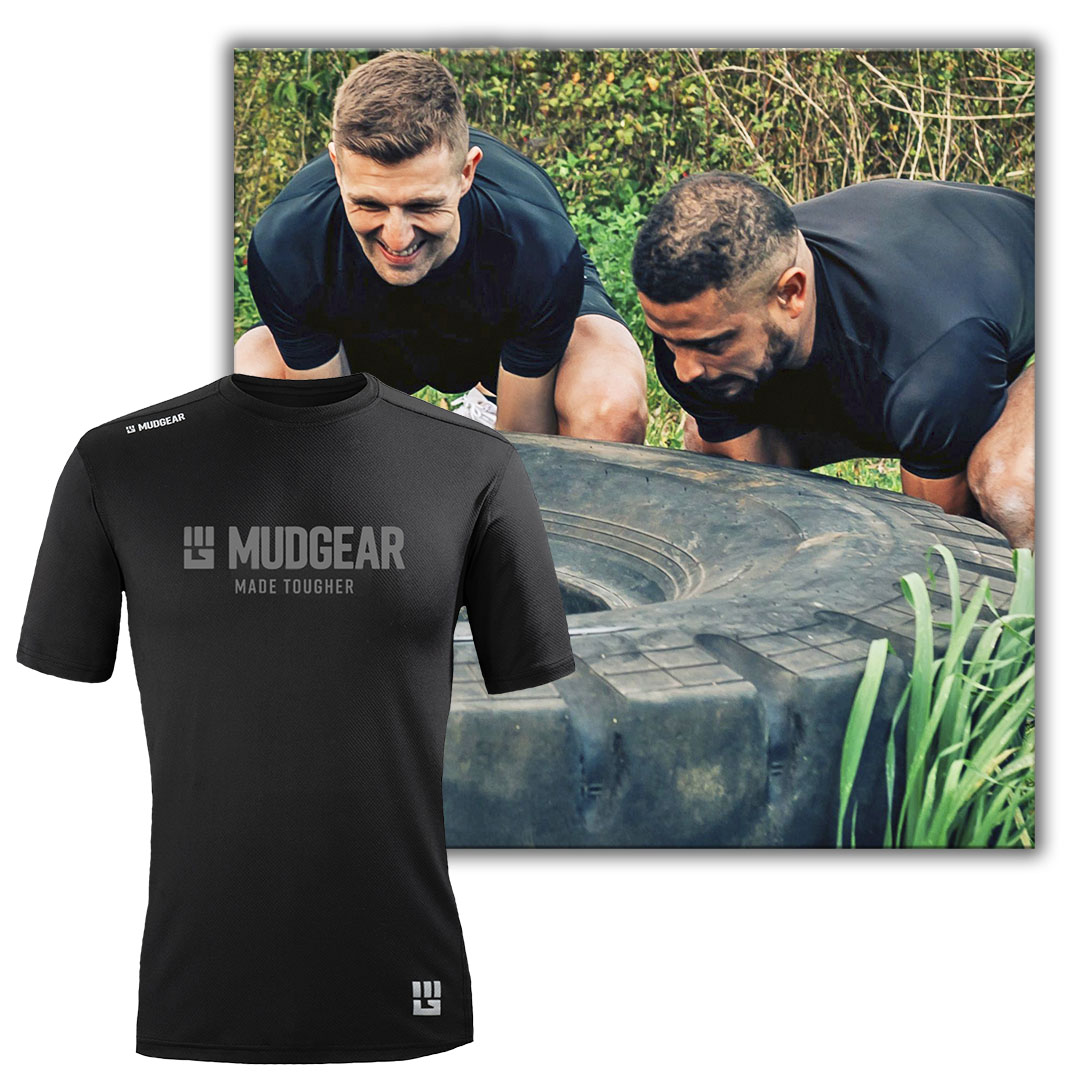 FOR THOSE WHO PUT IN THE WORK
We don't think you should have to worry whether you look good in the middle of a workout or race. So, we designed a shirt that stays in place while giving you maximum flexibility. Whether your chiseled torso is the result of focused attention or the unintended aftermath of training hard, don't you dare hide it. The V10 lets you look as good and strong as you feel. You've earned this!
Product Reviews
What Other Athletes Think