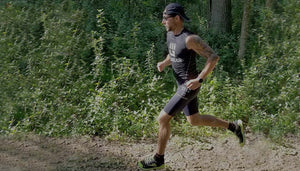 A Natural Obsession
Why are we obsessed with perfecting our trail running socks and apparel? It seems that more people are hitting the trails than ever. At MudGear, we call that a foot in the right direction. Not just that. American men and women alike are running further and faster. We see you setting PRs and FKTs on legendary trails here in the states, while also representing your countrymen at renowned foot races abroad. All we can do is thank you for making MudGear a force to be reckoned with in the quest to be known as the world's best trail running socks!
Top Socks and Apparel for Trail Running
Helping Trail Runners
Go The Distance
Whether it's where, when, how far, or how long you run, there's something about the MudGear "Made Tougher" mantra that attracts only the most hardcore runners out there. So, we're compelled to protect more than your feet. Men's Freestyle and Women's Flex-fit shorts are among the most comfortably durable running shorts in existence with pockets and drawstrings for added security and convenience.
Made In the USA
The Best Socks for Trail Running
The unmatched durability of MudGear socks sometimes overshadows their superior fit and comfort. From our tall trail running compression socks to the popular quarter (¼) crew trail running socks, MudGear footwear is made in the USA and consistently satisfying with lightweight presence, quick-drying moisture-wicking design, and breathable venting. Add to that the natural odor resistance of our specialty Merino wool trail running socks, and you'll find little room for improvement - but we'll never stop looking. 
Read more from MudGear about Trail Running: