Free 12-week Fitness Plan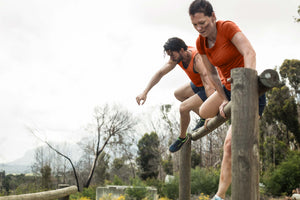 This Experience
Might Just Change
Your LIfe
Just Click "Get The Plan" at the bottom of your screen
So, you're really doing it!
You've decided to tackle your first Obstacle Course Race (OCR).
Good for you!
The Secret of Success
There's nothing like the muddy mayhem of scaling your first 8 ft. wall, bear crawling under barbed wire, or trying to cross some slippery monkey bars.
It might change your life!
A great obstacle course race will force you outside of your comfort zone and stretch you in ways you've never imagined... both mentally and physically.
That's not a warning; it's a promise, because you knew this wouldn't be easy. However, here's your WARNING: THIS EXPERIENCE MIGHT JUST CHANGE YOUR LIFE!
Sure, one-and-done can still be fun
...but many a newbies have crossed the finish line with a newfound, healthy addiction.
Something happened during that race. Something awoke in them… a whole new outlook on life. What they discovered on that course was a truth that applies to our everyday lives.
Obstacles are Real
Sometimes they're scary and may even beat the crap out of us.
So, what are you going to do about it? OCR teaches us to get back up and prevail.

Just Click "Get The Plan" at the bottom of your screen
(MudGear's OCR Preparation Course)
Get a FREE 12 Week Fitness Plan
Designed by Morris Brossette of Link Endurance
Certified Holistic Nutritionist and Health Coach
Designed to get you race-ready
Develop increased flexibility, running endurance and grip strength.
Easily adaptable for all
Whether you're a couch potato, a recent athlete, or somewhere in between.
Downloadable PDF document
Easy-to-follow instructions for print or digital link to video demonstrations.
Get a FREE Weekly Email with TIPS and Suggestions
Weekly Motivation
MudGear's Malko checks in to help keep your eyes on the prize.
Gear Suggestions
Learn which MudGear products will help you achieve your specific goals.
FAQs and Tips from the Pros
Learn how to get the most out of your workout and what to expect on race day.
Just click "Get the Plan" at the bottom of your screen to get started!
GEAR UP for the experience of a lifetime!
MudGear was voted Best OCR Clothing Brand because we know the sport and are dedicated to helping you love it as much as we do. So GEAR UP for the experience of a lifetime, and let MudGear help you on your journey.