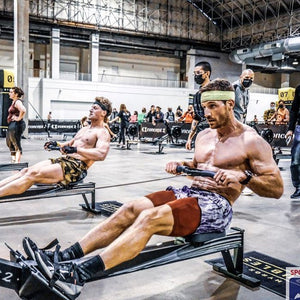 Competitive Fitness at the Highest Level
Functional fitness competitions require more than vanity muscles, and our indoor training socks are more than eye candy. They completely pass the MudGear standard for "Made Tougher" durability. Pair them with the lasting strength and comfort of MudGear shorts and tops for elite-level performance.

Top Socks and Apparel for Hybrid Fitness
Pushing Limits
Breaking Down Hybrid Fitness
In developing our hybrid fitness socks, we had to break down what hybrid fitness racing is all about. It's an obstacle course race without obstacles. It's MudGear without the mud. Think Hyrox, Deka, and the CrossFit Games. From head-to-toe, hybrid fitness athletes are often the most well-rounded specimens of pure strength and chiseled athleticism. They insist on gear and apparel that will showcase their hard work and support their strengths without ever slowing them down. That's why hybrid fitness athletes turn to MudGear.
Made In the USA
The Best Socks for Hybrid Fitness
MudGear Hybrid Training Socks for the gym incorporate special features unique to the needs of hybrid athletes and never seen on MG socks before. There's the reinforced ankle to prevent sprains or rolling and a comfortable left-to-right cross section at the ball of foot where pressure builds while you're digging down in a sled push/pull. Even the color options detour from MudGear's traditional palette while speaking volumes about the athletes who wear them. Are you red with fiery artistry, a cool and collected blue, or quick to sting like a yellow bee? Maybe you're a different color depending on the day. Own them all while knowing you'll always look and feel incredible!
Read more from MudGear about Hybrid Fitness: