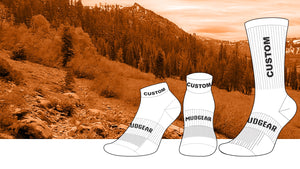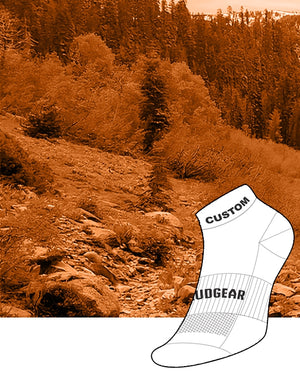 CUSTOM SOCKS MADE TOUGHER
Some of our favorite custom Projects...
ATRA Trail Running Sock
The American Trail Running Assciation chose a full knit 1/4 crew height sock with thin cushioning for it's members and partners.
Savage Race Compression Sock
Our friends at Savage Race designed this custom full knit over the calf sock featuring true graduated compression and a cushioned footbed.
North American OCR Championships
Athletes at the North American Obstacle Course Racing Championships scaled obstacles with ease in their custom MudGear tall compression.
TOP BRANDS TRUST MUDGEAR
GUARANTEED QUALITY AND PREMIUM VALUE
Working with MudGear, you'll have confidence in the quality and value that you'll deliver for your organization or clients.
We work with leading sporting events, race directors, businesses and organizations to create a wide range of custom socks styles that will elevate your brand and last for years to come.
Exceptional Service
From concept to delivery, you'll enjoy direct, one-on-one customer service.
Complementary Design Assistance
Once you send us your logo, our professional designers will use it to prepare several design ideas for your custom sock. We'll iterate your design until you are satisfied!
A Variety of Style and Color Choices
The MudGear quality you expect, offered in four styles and endless color combinations.
Minimums as low as 100 Pairs*
With two customization options, our minimums are as low as 100 pairs per size.
★★★★★

"Whether you're organizing a 5K fun run or an ultra-marathon, custom race socks are the way to go."

E. Raftery
★★★★★

"The quality of the socks is just exceptional. They are my favorite pair of socks I own"

Stephanie R.
★★★★★

"The entire process was easy and our socks look phenomenal! I highly recommend working with them for custom socks"

B. Bernhart
How It Works
Contact us using the form below
We'll connect you with a Custom Sock Specialist that will provide a free quote based on your preferences and design ideas
Our professional designers bring your custom project to life with a set of design image mockups
You approve your favorite design and your custom sock is sent to production
Our factory produces your Custom MudGear Socks, ships them to you, and you brag to your friends and colleagues on trail runs and on obstacle courses
Custom MudGear socks are surprisingly affordable and often cost less than race t-shirts and other promotional swag items. Pricing varies by style and quantity, but usually ranges from $7.00  to $14.00 per pair with quantity tier discounts available starting 360 pairs.
The minimum order size for our MudGear Co-branded Full-Knit custom performance socks is 200 pairs (100 pairs per size) with additional price breaks at 360 pairs. The minimum order size for MudGear Co-branded 360 Digitally Printed performance socks is 100 pairs (100 pairs per size) with additional price breaks at 240 pairs. Most orders select 2 or 3 sizes.
Your production time will depend on your total quantity ordered but most orders are shipped in 8-10 weeks. If you need socks for an event, let us know and we can guide you to use the fastest options to hit your date.
Your sock height is completely customizable.  We make no-show, quarter-crew height, mid-calf crew height or tall compression.
MudGear socks are built tough for outdoor adventure.  A proprietary yarn blend provides extreme comfort and superior moisture-wicking properties, which helps to prevents blisters and keeps you dry, cool, comfortable during long miles on the trail, or extended hours on your feet. True compression helps to keep dirt and debris out of your socks, and our extra tough yarns help prevent cuts and abrasions during any activity.
Once you send us your logo, our professional designers will use it to prepare several design ideas for your custom race sock.  We'll iterate your design until you are happy.  Then, as production begins, you'll also receive images of the first socks off our machines to be sure they look perfect!
To learn more or to get started on your custom race sock project, just complete the form below.  A Custom Sock Specialist will reach out to you and ask for your logo by link or email to help review your colors and art ideas and to guide you through the process step by step!